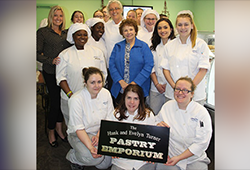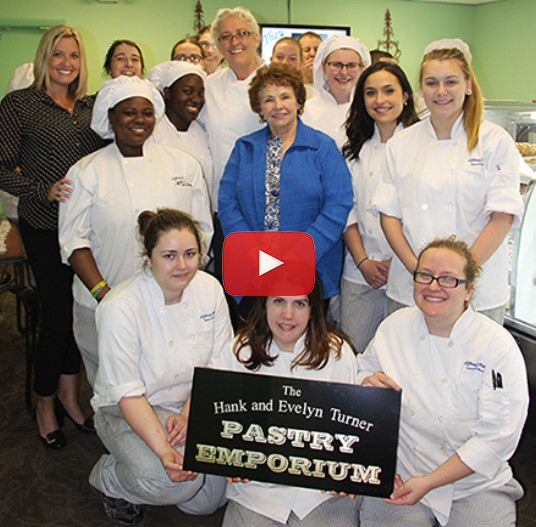 For many years, Evelyn Turner has been a strong supporter and friend of Alfred State, particularly when it comes to the college's Culinary Arts Department.
Now, thanks to one of her many contributions – a combination of funds and gift-in-kind items – culinary students have an impressive, newly renovated space to sell baked goods from, "The Hank and Evelyn Turner Pastry Emporium," which the college recently dedicated in their honor.
Located in the Culinary Arts Building on the School of Applied Technology campus in Wellsville, the emporium includes a new two-sided bakery case that features refrigeration on one side to keep items cold. Adjacent to the bakery case is a new island cupboard with a granite top. That was constructed by students in the building trades: building construction program.
Work on the emporium was completed in April, just weeks prior to the dedication. Culinary Arts Department Chair Deb Burch said her department has been waiting for many years to acquire such a beautiful bakery case and received one only two months after Turner became aware of the need.
"The new bakery case has improved the quality of the products the students are making because they want to make the baked goods as delectable and appealing as possible to go in the beautiful case," she said. "Evelyn made this possible."
Danielle White, executive director of Institutional Advancement, said, "We are truly blessed to have such a wonderful and caring friend of the college. Evelyn has impacted many students' lives with the generous scholarship funds she donates every year and the extra funding she has provided over the years to help make our culinary arts programs what they are today. She is so proud of the students, and we are so grateful to her."
Speaking to the culinary students during the dedication, Turner said, "I'm going to continue to help in every way that I can, and I'm always here for you. I'm proud to be associated with each and every one of you. I'm proud of your accomplishments and the ones you are striving to achieve. Keep up the good work."
Examples of Turner's ongoing generosity include the Evelyn Turner Culinary Arts Annual Scholarship, which is in memory of her husband, Henry "Hank" Turner. This provides two culinary arts students and two culinary arts: baking, production and management students in good academic standing with $2,000 each.
Turner also donates $10,000 for the Evelyn Turner Excellence in Culinary Arts Annual Scholarship, which is disbursed evenly among four returning culinary students with financial need who have attained high academic standing.
In 2013, Alfred State honored Turner with the President's Medallion, which is given to those who have made outstanding contributions to the college. Turner's contributions have stemmed from three main motivations: her admiration for the culinary students who work in various rotations, her emphasis on the value of education, and her belief in the ability of food to bring people together.
Despite having been born in Louisa, KY, Turner is proud to call Wellsville her home. She and her late husband owned and operated Turner & McNerney Pipe Line Inc. in Wellsville, where she managed finances, human resources, records, and internal controls for the company as assistant vice president and business manager. The couple often discussed the calling they both felt, which was to support other hardworking people in their endeavors.