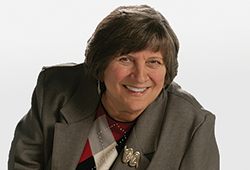 In her 40-plus years of teaching English at Alfred State, Dr. Aniko Constantine has won awards, become a SUNY Distinguished Teaching Professor, and donated money for scholarships and a legacy gift in the form of a $100,000 annuity.
Yet Constantine's true legacy isn't measured in achievements or dollars and cents, but rather by the impact she has had on her students.
Thanks to her, thousands of Alfred State alums can recite "But, or, yet, for, and, nor, so are seven conjunctions I should know." And, because Constantine believes everyone should have a few lines of poetry to be able to readily recite from memory, they can also say, "Two roads diverged in a wood and I, I took the one less traveled by, and that has made all the difference."
"And that is only the first day of classes," she said.
Constantine said she loves the fact that she can make a difference in her students' writing skills.
"I feel as if I make a difference in the quality of their writing, their ability to graduate from Alfred State, and their ability to work at a job at some point in the future, where their writing skills are going to be called upon and their communication skills are going to be asked for," she said.
Before her life's journey brought her to Alfred more than four decades ago, Constantine grew up on a dairy farm in another small town called Laurens, located in Otsego County. She said being a dairy farmer's daughter was probably the single most influential part of her upbringing.
"I learned what it was to work hard and to enjoy the hard work and to enjoy the fruits of that hard labor at my father's side," Constantine said.
In between milking cows with her father at a young age, Constantine said, the two of them would dance together in the barn.
"We had a phonograph out in the barn," she said. "If I put on 'Mi Casa, Su Casa' by Perry Como, he would say, 'OK Annie, come on.' And in between the hard work, there was this beautiful moment of play where I learned to waltz with my father."
After graduating from Laurens Central School in 1961, Constantine earned her bachelor's degree in English from Hartwick College in 1965, and her master's and PhD, both in English, from the University of Illinois Urbana-Champaign campus in 1966 and 1972, respectively.
She began her first teaching job in 1972 at Allegheny College in Meadville, PA, which is "why I'm such a Pittsburgh Steelers fan," she said.
"It was a nice, small town. I felt comfortable teaching there. But Allegheny College was a college for privileged students. It really was a very impressive, small school, but I never felt the pull there that I feel here, that I was needed and that I was making a big difference in the education of the students there," Constantine said. "So when a job became available at Alfred State and I came here to interview, this seemed like the school where I belonged."
Constantine joined Alfred State in 1974 as an assistant professor and six years later, she was named a SUNY Chancellor's Award winner for excellence in teaching. She received the Jaime Escalante Award for Teaching in 1989, was named a SUNY Distinguished Teaching Professor in 1997, and was honored with the Alumni Association Outstanding Faculty Award in 2010.
Other honors include the National Endowment for the Humanities Summer Fellowship at the University of Pittsburgh to study theories of writing, an appointment to the SUNY Scholars Panel for Writing Assessment, and being treasurer and executive board member of the SUNY Writing Council for 25 years.
However, Constantine said her most important award, according to her father, Frank, was the one she received for winning the faculty milking contest for the first time in 1980.
"He was really tickled and pleased with the idea that I had not forgotten because it had been 10 years or so since I had milked a cow," she said.
Also in the 1980s, Constantine convinced then-Alfred State President Dr. David Huntington that each student's name should be read aloud at Commencement, which was not happening at the time.
"I have been reading the names of students as they graduate from Alfred State ever since then," Constantine said.
Over the years, Constantine has taught a number of courses at Alfred State, including introduction to composition, introduction to literature, short story, gender and identity in literature, and images of women in fiction, which she created. When asked what she has enjoyed the most about her time at Alfred State, the answer was easy: the students.
"Our students are wonderful and I have enjoyed working with them," she said. Through an outreach program, Constantine even once taught Vietnam veterans, some of whom, she said, had been in rice paddies thousands of miles away from home only a month before they ended up in her class, talking about semicolons.
"Alfred State made an effort with this program to bring these students in and to provide them with a semester of essentially remedial math, remedial English, and then several courses in whatever field they might have been interested in pursuing," Constantine said.
Constantine's impact on students extends beyond the walls of the classroom, however. She is a faculty adviser for Ergo, Alfred State's literary magazine. More information on Ergo can be found here:
https://alfredstate.collegiatelink.net/organization/Ergo/about
.
Constantine has also aided students financially.
"I have, for probably the last 20 years, been supporting small scholarships on campus, for example, at the Honors Convocation to Phi Theta Kappa graduates and to building trades: building construction students for their Semester in the South trip, to Educational Opportunities Program graduates, to the outstanding students in the School of Arts and Sciences, prize money, and so forth," she said.
However, Constantine said she wanted to make more permanent donations to the school, so she endowed a memorial scholarship for her son Paul Edward Constantine Jr. and a scholarship for Educational Opportunities Program students.
Her largest donation is a $100,000 annuity legacy gift, an attempt to benefit Alfred State, plus her and her husband, Paul, with whom she recently celebrated 50 years of marriage at Disney World, along with their three sons, Frank, Paul Jr., and Charles.
"It provides us with a small income for many years and it provides the school with funds to spend when we pass. It's unrestricted," she said. "The college one day will use the funds to benefit the educational programs here at Alfred State and we will continue to get the small income from it for the rest of our lives."
Constantine said she decided to make a legacy gift because there was a need for it.
"I see students often who need more financial support than what they're getting, even for something as simple as Xeroxing articles in the library," she said. "Textbooks are always a big problem. Often, textbooks cost $1,000. Even parents who have budgeted for that have not budgeted $1,000 for textbooks for the semester and so I'd like to think that there was help around because a student without textbooks is a student who is not going to be able to pass."
Many Alfred State students, Constantine pointed out, are the first person in their families to attend college.
"I also know that many of our students come from families who are below the poverty line," she said. "I love the fact that they are coming to Alfred State, they're going to get a degree from here, they're going to get a good job, and they will no longer be below the poverty line, and hopefully they will be grateful to their parents and share some of the wealth that they can have after they graduate as well."
She noted, "I can make a difference, as their teacher, for the rest of their lives and for the lives of their families. That's the beautiful thing about Alfred State."
The beautiful part about Constantine's time at Alfred State is how she has made an impact on so many people, including her colleagues.
Dr. Robert Curry, dean of the School of Arts and Sciences, said he can't say enough good things about Constantine.
"She has been an invaluable mentor to me and to many other faculty, she has been a tireless advocate for the liberal arts in general and the humanities in particular, and her positive impact on the lives of her students has been enormous," Curry said.
Janice Stafford, assistant professor in the English and Humanities Department, said she does not think Constantine will ever retire, though if she does, Alfred State will be losing a little piece of its soul.
"I have known Annie for more than 30 years," Stafford said. "She was my friend long before she convinced me to become an adjunct 13 years ago. Her enthusiasm for teaching is contagious.
"I have gone from an adjunct to a temporary lecturer and am now an assistant professor. None of that would have happened without her guidance. She loves this school, her colleagues, and her students, and the feeling is mutual."