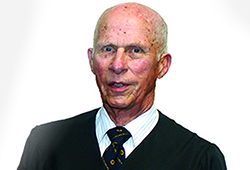 Dr. James Koller grew up more than 1,500 miles away from Alfred in the small town of Edgemont, SD, where he attended public schools.
Although his undergraduate education was interrupted by 38 months of active military duty, he earned his bachelor's and master's degrees in chemistry from Creighton University in Omaha, NE, in 1947 and 1949, respectively. He then achieved his PhD in physical chemistry from the University of Nebraska in 1953.
And although he never attended or worked at Alfred State, Koller has been a Pioneer for more than 30 years.
In 1981, he was appointed to the Alfred State College Council, an advisory group to the president of the college. He would serve for two additional seven-year terms, the legal limit. For more than 20 years, Koller voluntarily invested his time and efforts in the future of Alfred State, both as a College Council member and later as an original member and second chair of the Board of Directors for the Development Fund, the fundraising entity for the college. Under Koller's direction, the Development Fund came together, the infrastructure was built, and policies and processes were established. or worked at Alfred State , as been a Pioneer for more than 30 years. Our main goals were to establish a 'habit of giving' among the friends of Alfred State and to set up appropriate structures for conducting fundraising and stewardship activities," said Koller, who served on the Development Fund Board from 1996 to 2002. "These, among other challenges, meant establishing a policy base and working out the appropriate relationships with the Educational Foundation and Alumni Boards."
By the time he began his involvement with Alfred State in the early '80s, Koller had been an employee at Eastman Kodak for nearly three decades. He began working there in 1953, holding various positions in research, development, and manufacturing, until becoming manager of paper manufacturing at Kodak Park in 1979, manager of film manufacturing in 1980, and both in a reorganization in 1983. He retired in January 1987.
Thirteen years later in 2000, Alfred State established the Jim Koller Volunteerism Award to honor Koller and to recognize the time, effort, and energy he has invested in the future of the college. In recognition of his service to and support of Alfred State, the college awarded him an honorary Doctor of Science degree in 2008.
Evidence of the special place Koller has in his heart for Alfred State and its future can also be found in the financial donations he has made and will make to the college. He said he plans to contribute to the Koller Scholarship Fund to encourage student volunteerism on campus and in their home communities, until the fund reaches what he believes to be an appropriate size. When that happens, Koller said, he will then continue to make unrestricted gifts to the college.
Koller will also leave a legacy gift to the college in the form of a commitment from his charitable remainder trust. In this type of legal arrangement, property or money is donated to a charity, making it taxdeductible, but the donor continues to use the property and receive income from it while alive. Assets from the trust go to the charity upon the death of the donor. Koller said he decided to make a legacy gift because, "I considered Alfred State to be the best opportunity for underprivileged high school graduates in Western New York and the Southern Tier to receive postsecondary education of very high quality. Also, I was impressed with the commitments already made to Alfred State by families and businesses in the area."
Koller encourages fellow members of the Alfred State family to give back to the college financially, saying, "If you're interested in Alfred State, support it with a gift that will keep on giving."
Dr. James Koller passed away Feb 6th, 2019, leaving a legacy gift to the college in the form of a commitment from his charitable remainder trust.